Squire
Posts: 86
Joined: Tue Dec 13, 2016 4:04 am
Companion-at-Arms
Posts: 229
Joined: Mon Dec 12, 2016 3:55 pm
Location: Glen Ellyn, Illinois
Contact:
Very nice and great photos! Hurry and finish before the Gauls attack!
Bill Hupp
Thistle & Rose Miniatures
Squire
Posts: 86
Joined: Tue Dec 13, 2016 4:04 am
The finished Roman camp belongs to my son, so I decided to make a second Triumph! camp using some of the Baueda marching Romans. I found an old pack of Roman Generals - from Black hat maybe? Or QRF? - and decided to use them together. The Roman officers are full of character, even though the horses are a little stumpy. One figure, the one holding his helmet, had a tiny little head so I replaced it with a bare head from the Forged in Battle Spartacus range. The mounted officer giving directions has a right arm borrowed from an Old Glory Roman officer with the sword carefully whittled and filed down until he just has a pointing finger left. The standard bearer and musicians are Old Glory. The guards are Baueda.
The trees are just placeholders. The idea was to get all the pieces in the right place.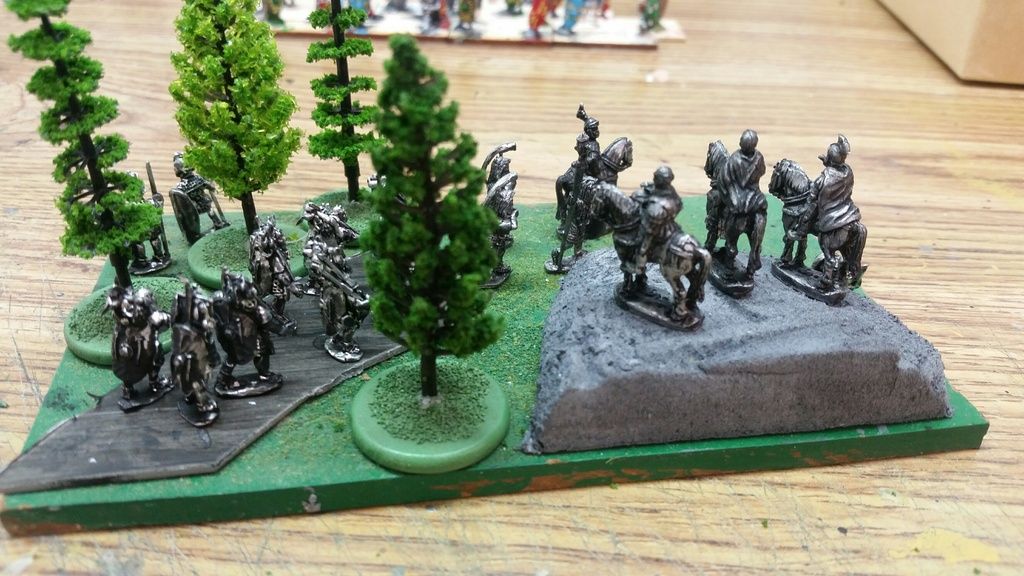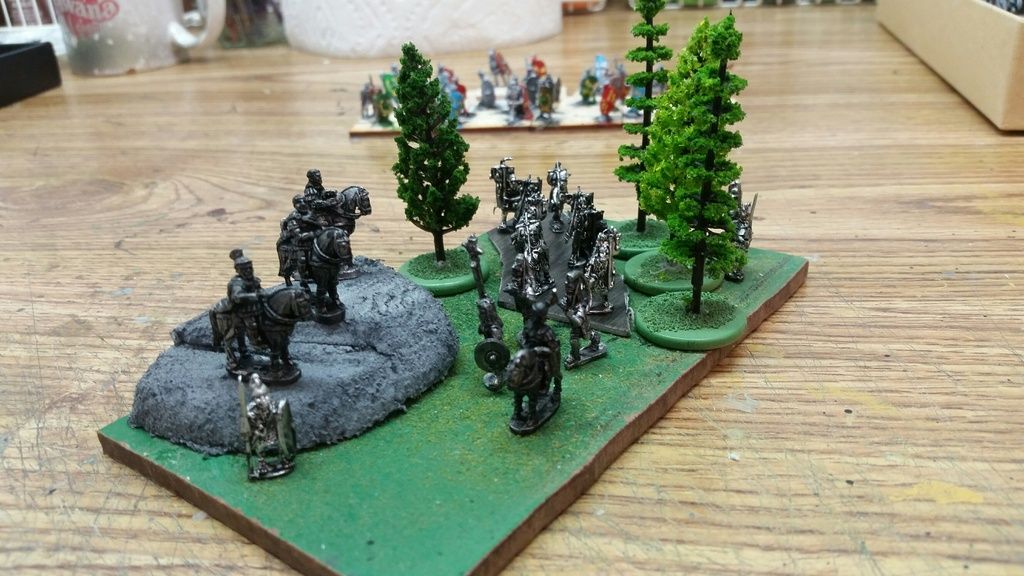 Another excellent start Tex. You could even use it for the Varian disaster. I will be eager to see the completed camp.

Cheers,
Greg in the antipodes.
Companion-at-Arms
Posts: 229
Joined: Mon Dec 12, 2016 3:55 pm
Location: Glen Ellyn, Illinois
Contact:
This is a great idea. I am going to add that to my "Ancient Terrain Improvement Project List."

One of that project's mottos is: Death to felt terrain pieces!

Bill
Bill Hupp
Thistle & Rose Miniatures