My son and I played two games this weekend using my 15mm Lullubi (Zagros Highlander) and early Elamite armies. I took the Elamites for both games.
The Lullubi were the invaders in the first game so the topography was hilly. There were six pieces of terrain; one steep hill, one stream, and four wooded hills. The key terrain for this battle was a wooded hill in in the center, just in front of the Elamite camp.
The Elamites, having 22 Bow Levy and an Archer general, lined up, in many places two deep, in front of the camp. The general stayed behind them in order to be able to move to either flank. The Lullubi sent their two Light Foot and two Skirmishers to their right flank. The four Bow Levy and twelve Rabble made up the main line and left flank. The Raider General led from the front and aimed for the wooded hill.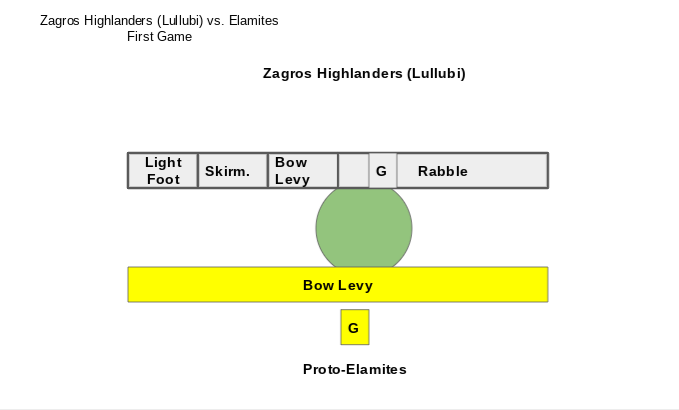 Both sides advanced. The Elamites stopped at the top of the wooded hill while the main lines came into contact. The Elamite Bow Levy acquitted themselves well on the Elamite left flank, destroying many of the skirmishers and Lullubi Bow Levy. The Lullubi commander made good progress in taking the wooded hill, but his limited command and control radius while on the wooded hill made it difficult to adjust his troops elsewhere. The Elamites made more local attacks on isolated stands of Lullubi and won the game. Final losses: Lullubi:16, Elamites: 12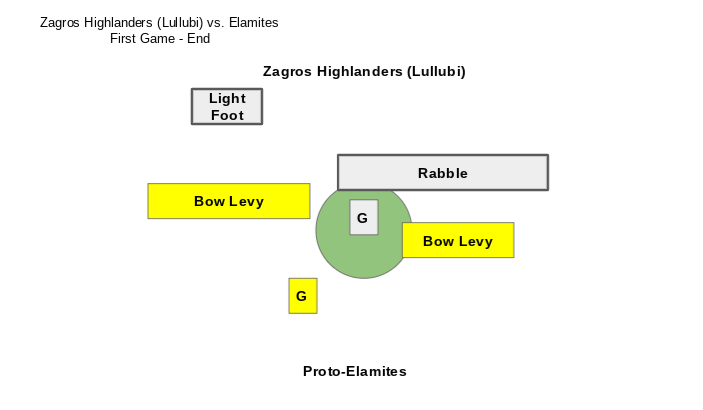 I will try to post photos and a report on the second matchup tomorrow.