My son and I played two battles last week. He took the Nomadic Amurru and I took the Early Sumerians.
The Nomadic Amurru have five Light Foot, three Archers, and the rest are Rabble, Skirmishers, and Bow Levy.
The Early Sumerians have a Raider, supported by six Skirmishers, some Rabble, and mobs of Bow Levy.
FIRST BATTLE
The first battle had a patch of Rough terrain in the center of the board. My Bow Levy went in the center with a few extra stands forming a second line that could move to fill the gaps that I expected to form when the Amurru Light Foot hit my line. The Amurru Archers formed in a group on the left flank of their line.
Both lines advanced to contact. The Sumerian center was hit by the Amurru Light Foot and took heavy casualties. The Amurru archers did not destroy any stands but did force the Sumerian right flank to keep their distance. The Sumerians did not have enough combat power on their left flank to make any progress. The Bow Levy in the second line were too slow to respond effectively. In the end, it was an overwhelming Amurru victory.
SECOND BATTLE
This battle had no terrain in the center. The Sumerians deployed with more Skirmishers on their left flank, with the intent of trying to overwhelm the Amurru right flank. The Bow Levy formed the center, with the Raider in the front line. Some Skirmishers formed a second line. The Amurru alternated their Archers and Light Foot in the center. Their plan was to use the archers to drive back some of the Bow Levy so that the Light Foot could exploit the gaps.
(On the diagram it looks like the Sumerian Skirmishers were equally divided between the flanks but there were really more on the left. )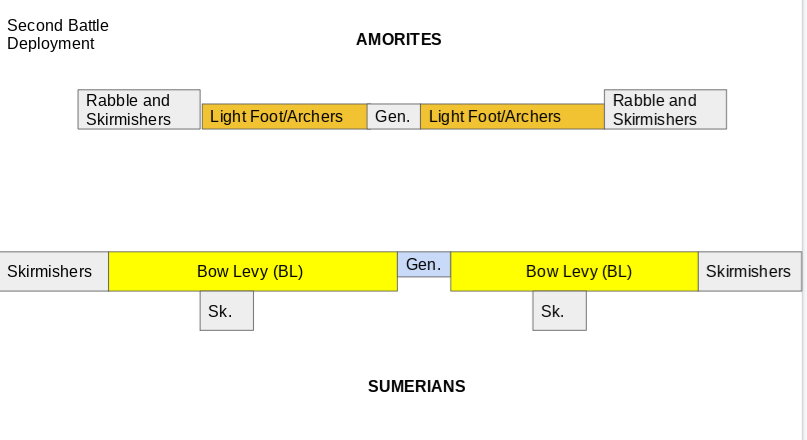 The Sumerian skirmishers, with their superior mobility and greater numbers, were able to destroy part of the Amurru right wing and even start a run on the Amurru camp. However, the Amurru center broke through the Sumerian line before any more progress could be made. A decisive victory for the Amurru.
Any ideas on deployment strategies or battlefield tactics for the Sumerians that might assist in a future matchup? I think trying to overwhelm a flank while avoiding combat in the center as long as possible would be good. Perhaps trying to get some rough terrain in the center and keeping it between the Bow Levy and the Amurru, instead of advancing into it like I did the first game.