This 15mm army represents the invading troops of the Hyksos people, who overthrew the native Pharaohs in Lower Egypt through a combination of migration and military power and established themselves as the Fifteenth Dynasty of Egypt for more than 100 years ( approximately 1650-1550 BC). They established their capital at Avaris in the northeastern delta of Egypt. Southern (Upper) Egypt continued to resist the "Rulers of Foreign Lands" culminating in the conquest and expulsion of the Hyksos by Pharaoh Ahmose I.
Their seizure of power has been portrayed as either a military invasion made possible by the chariot or a gradual seizure of control enabled by the power of demographics. The reality is probably a combination of these two factors and this army is designed to reflect this.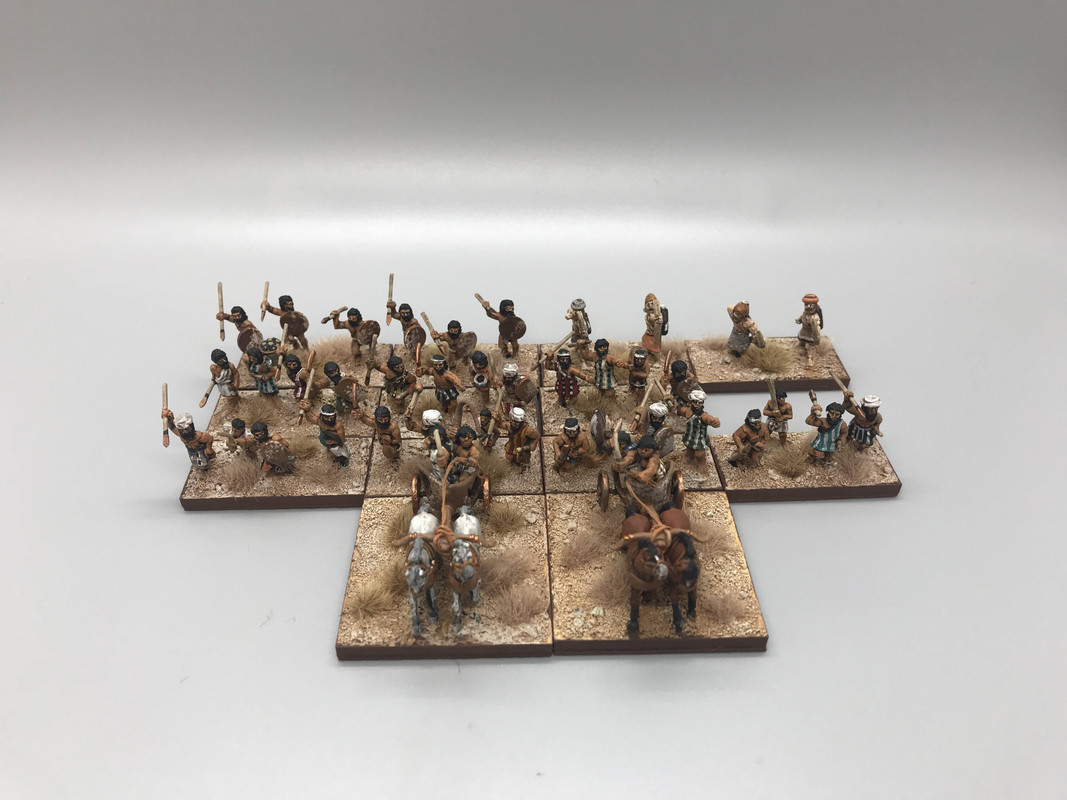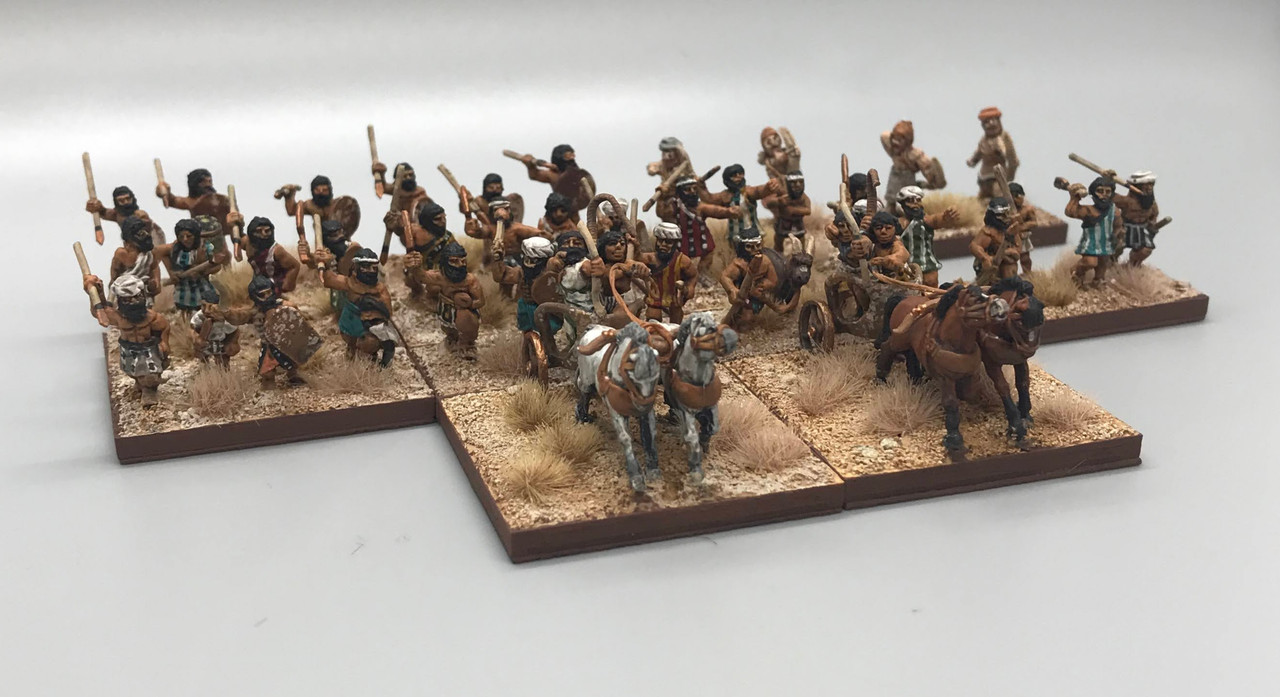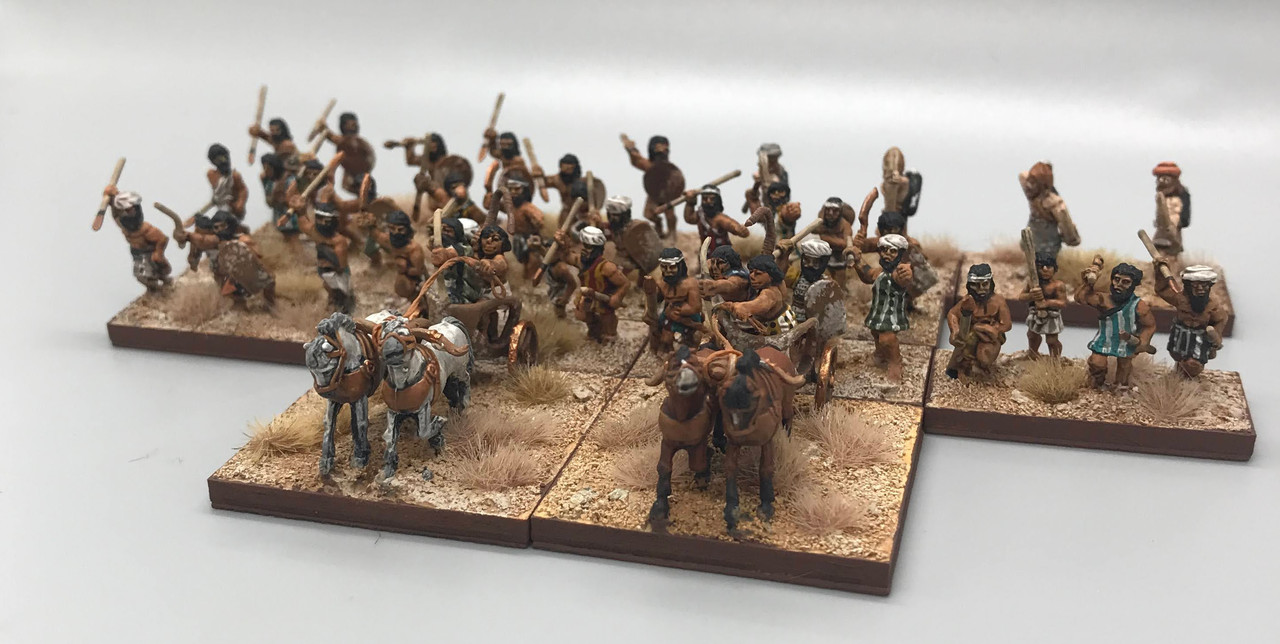 In Triumph! terms, this Hyksos army has two Chariots, seven Raiders, two Light Foot, and two Skirmishers. This is 13 stands worth 48 points.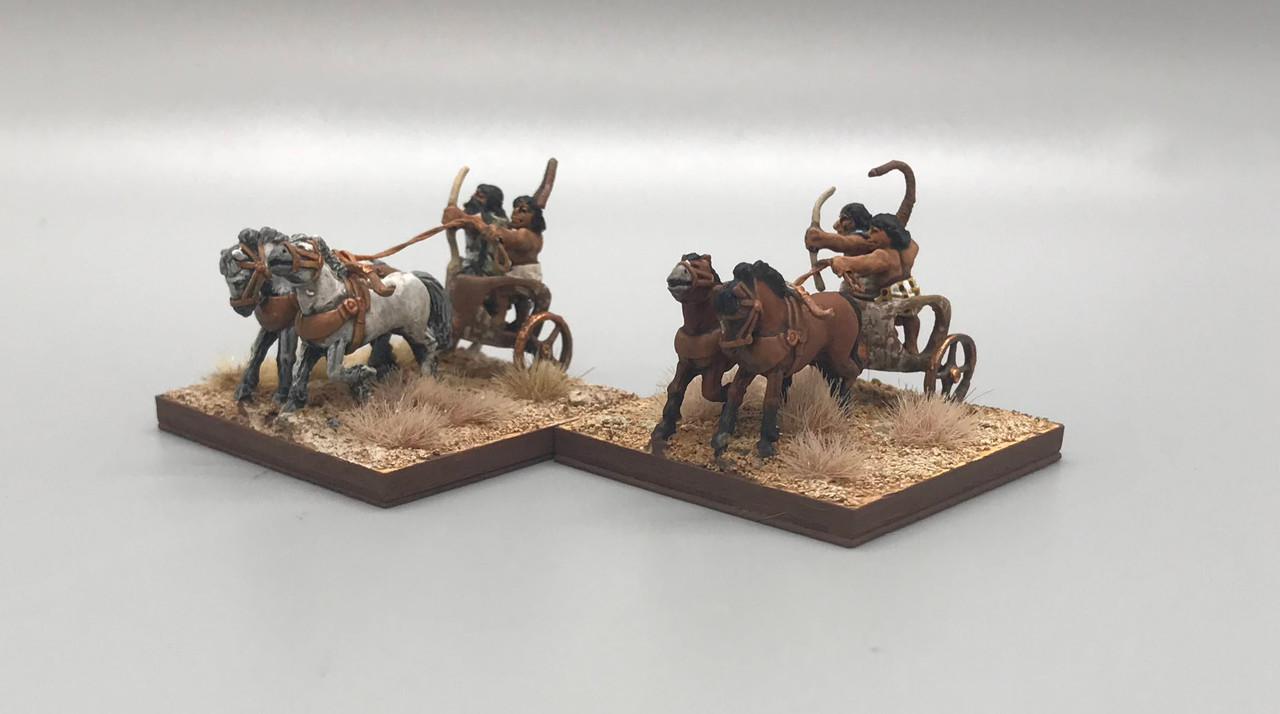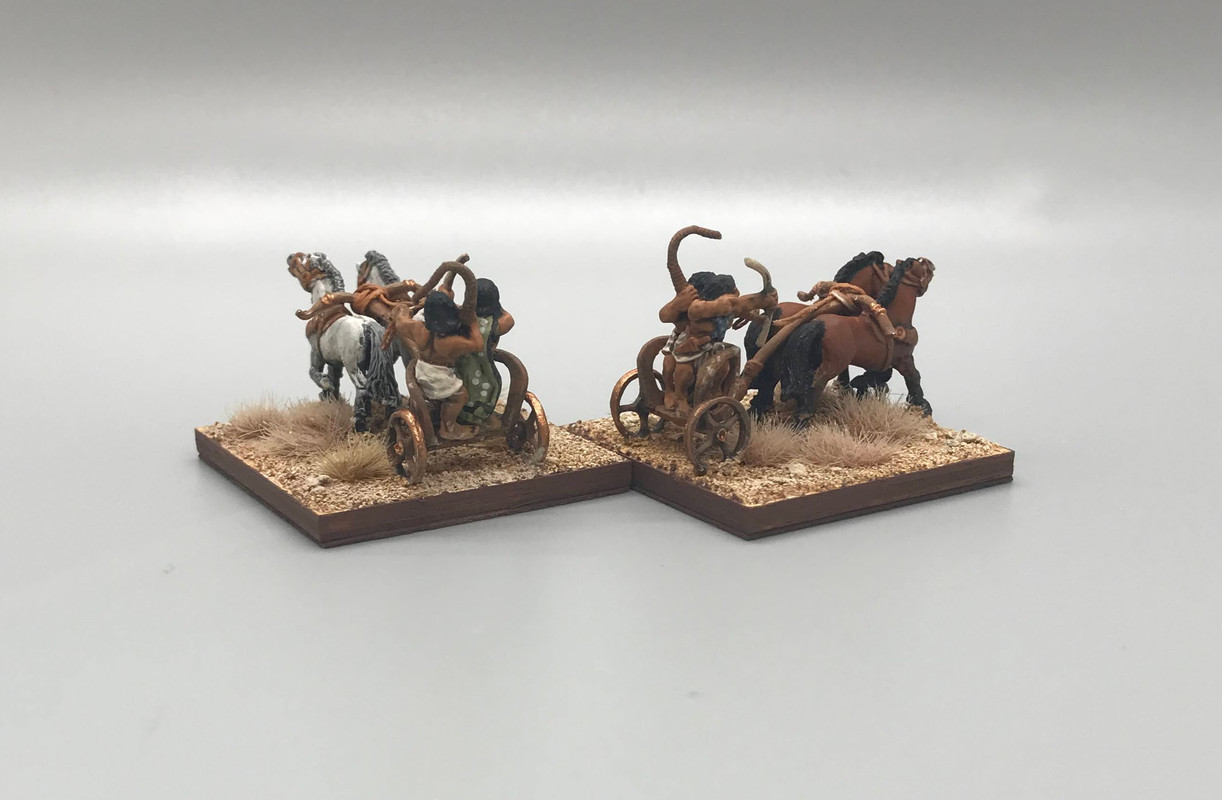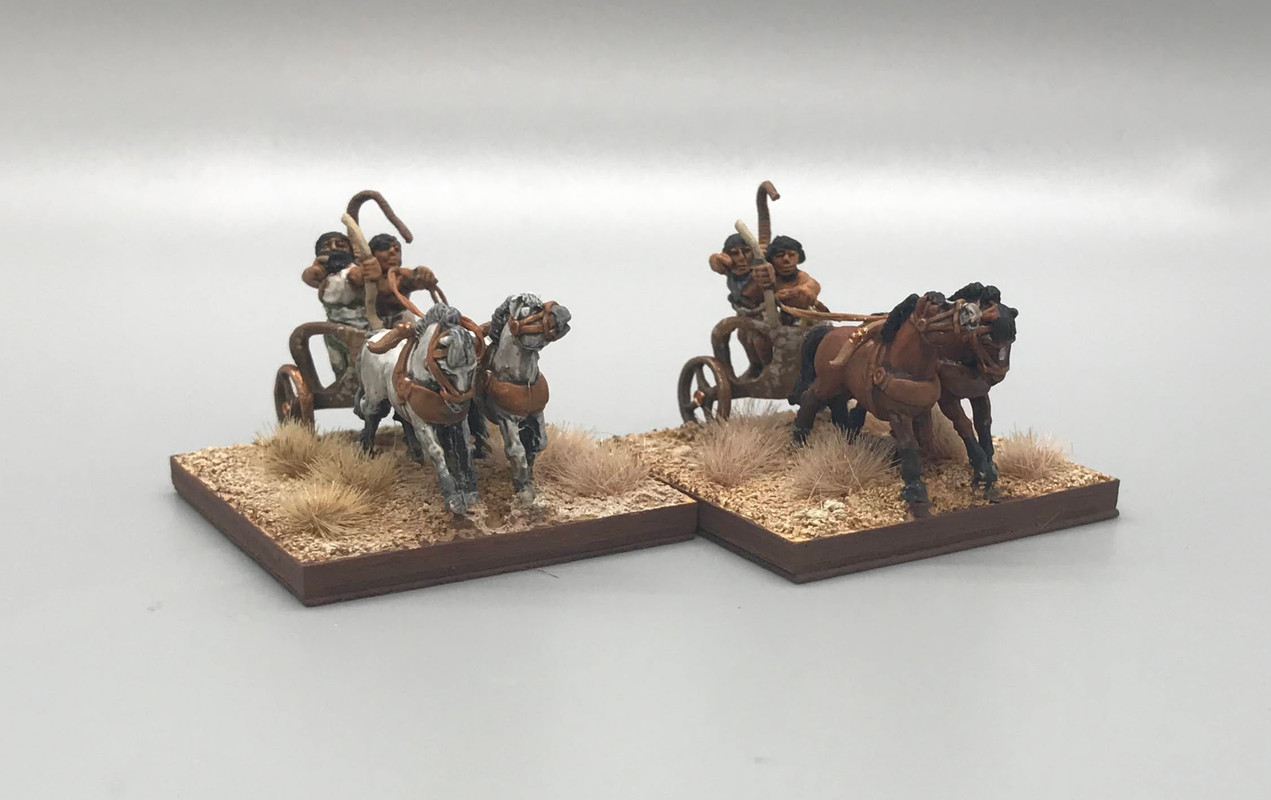 Chariots.
These two chariot models came from Gladiator. The clothing and equipment closely match the illustrations of Hyksos warriors found in "Armies of the Ancient Near East".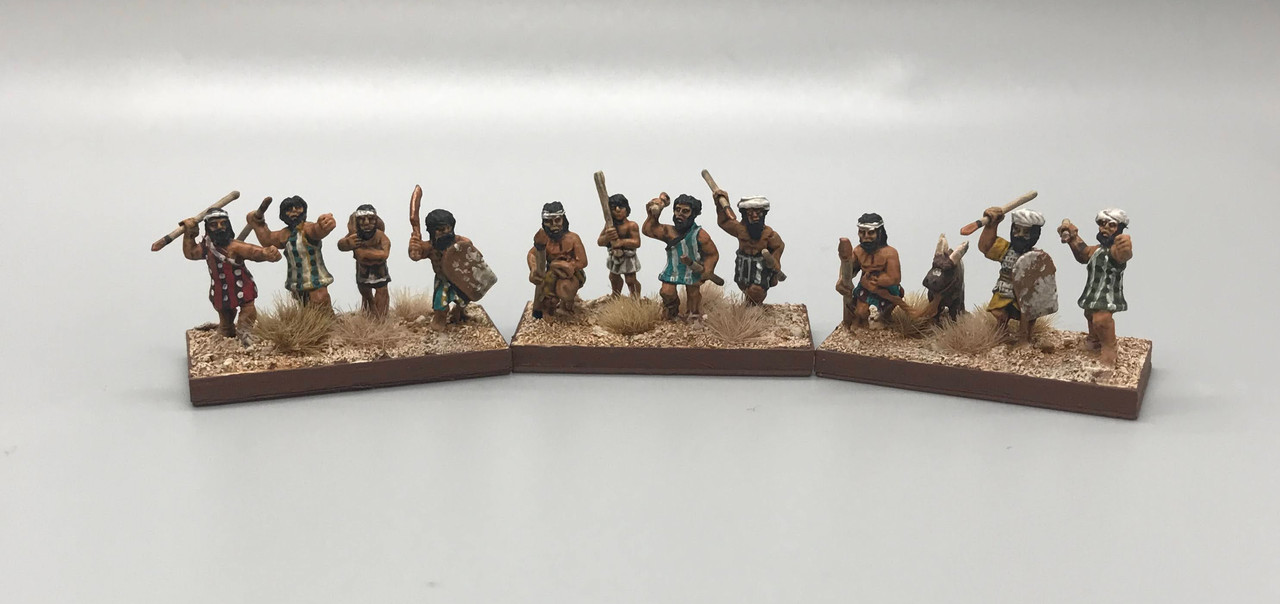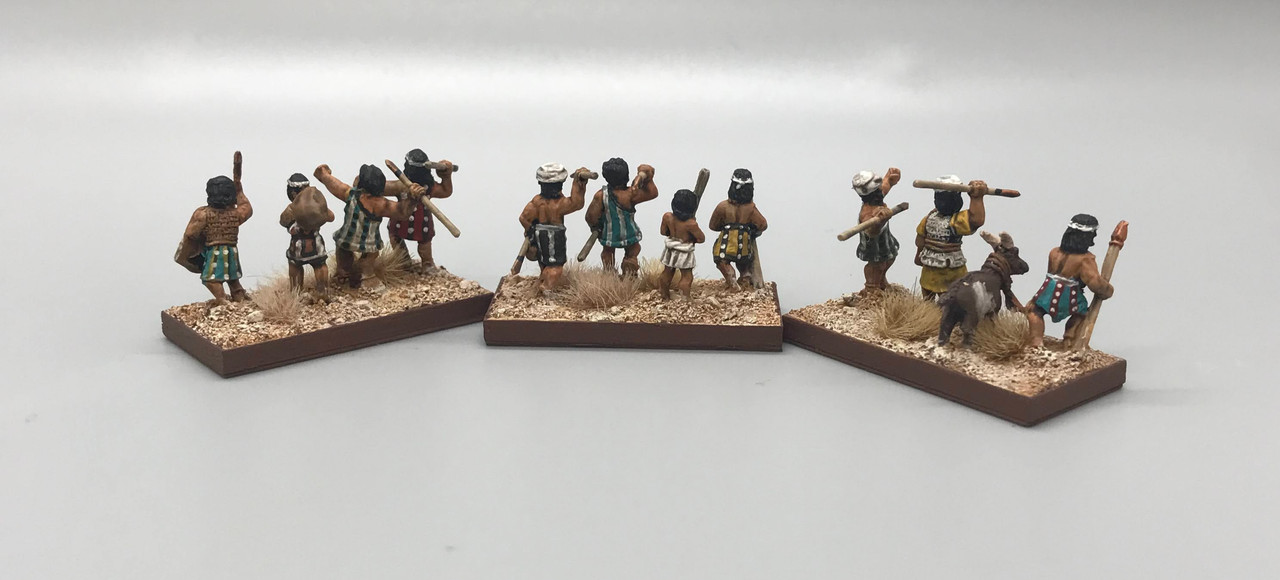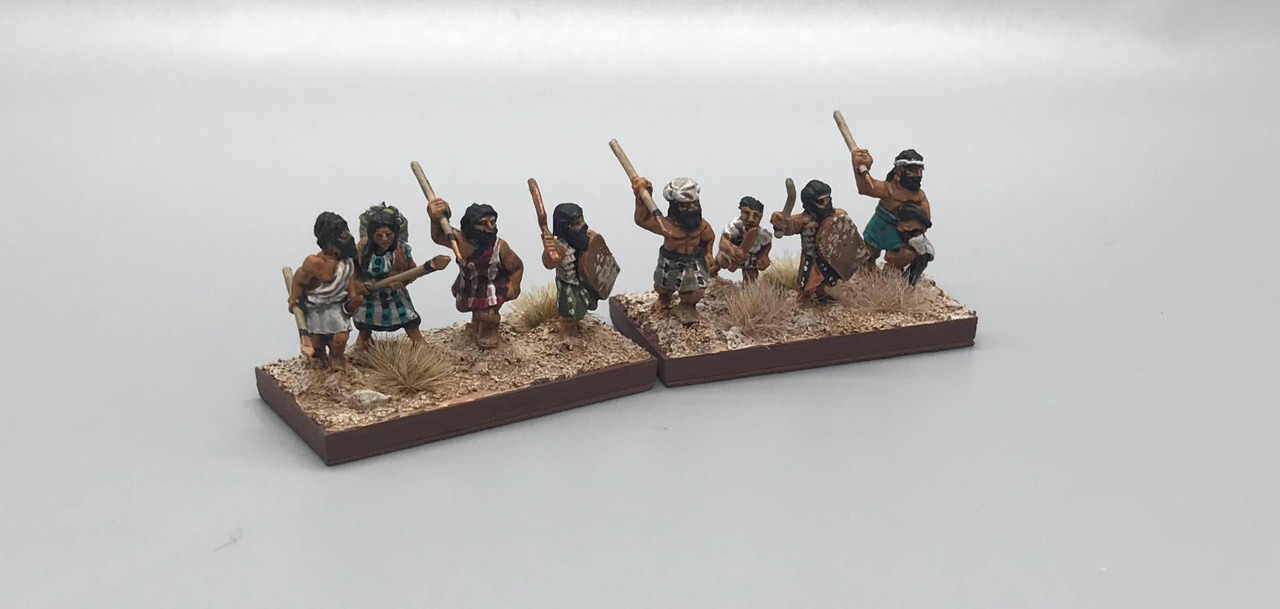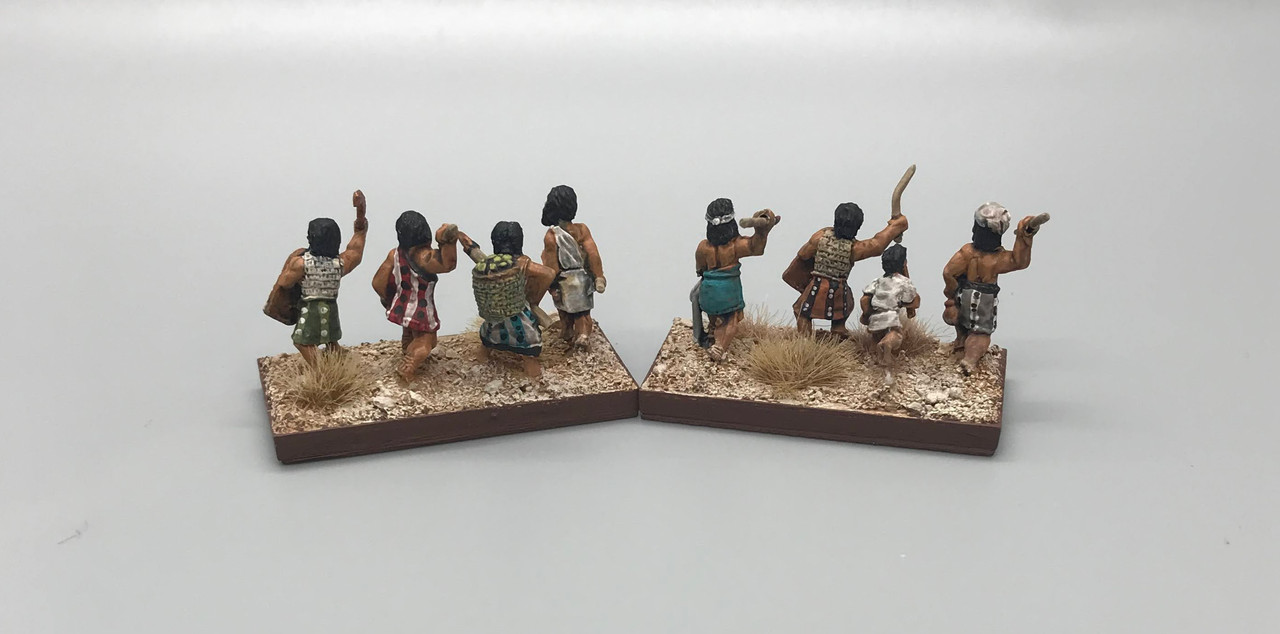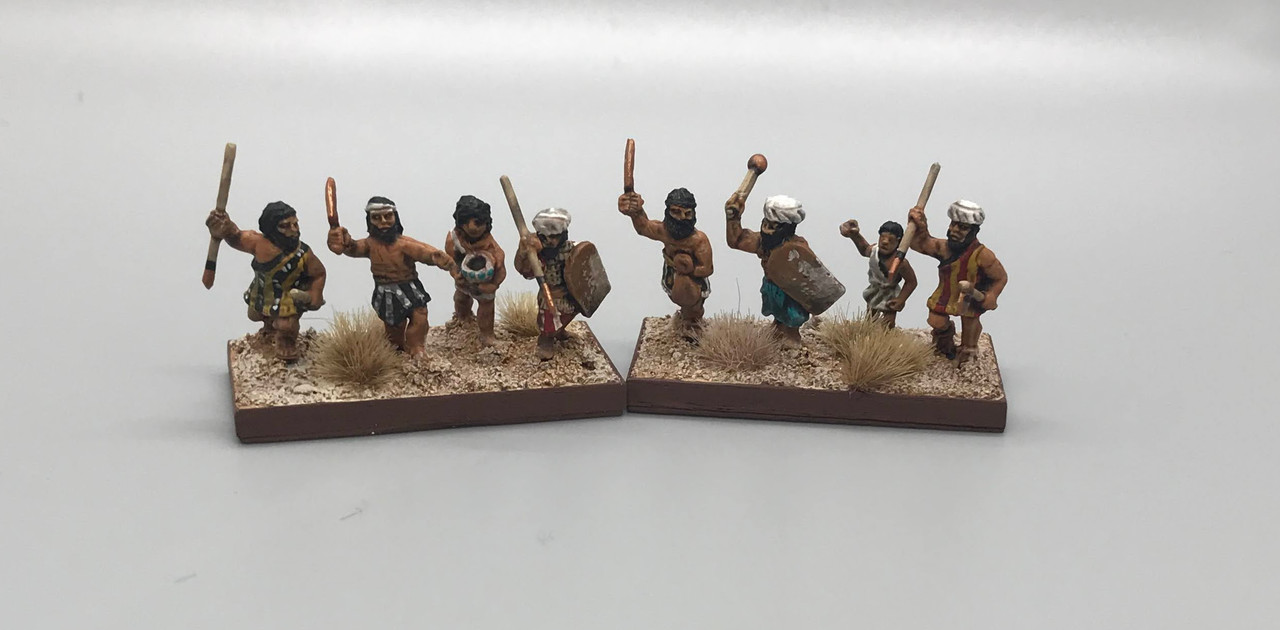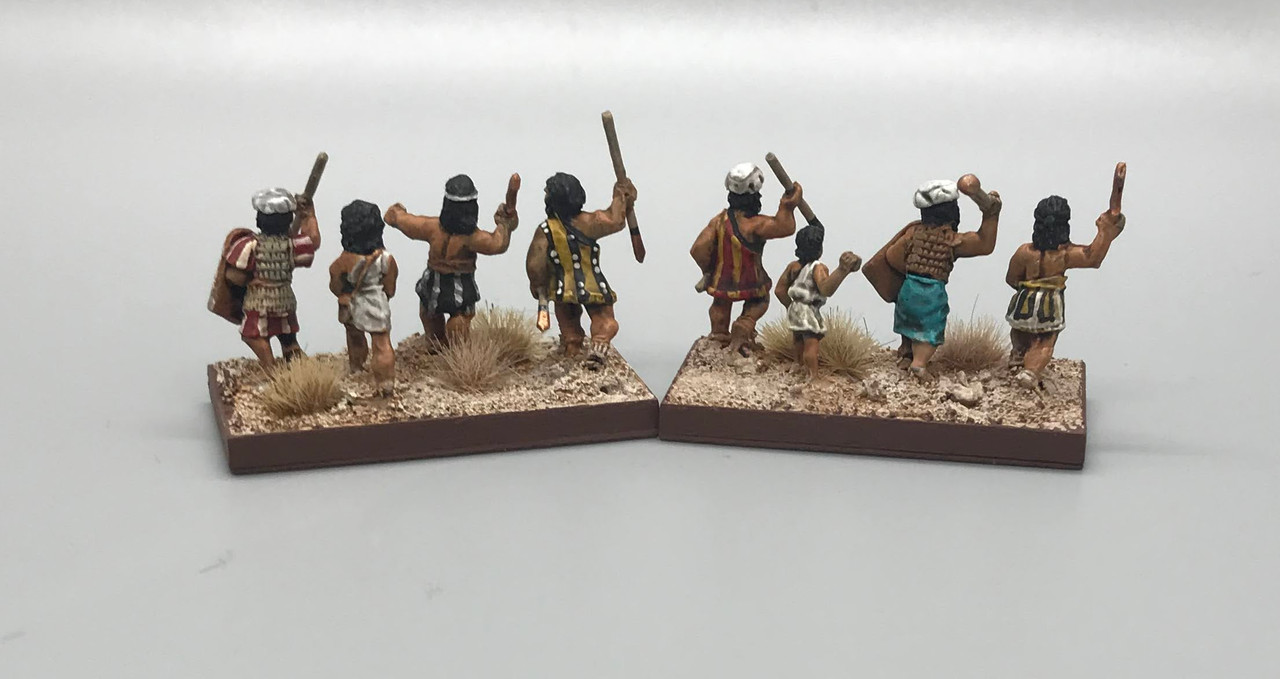 Raiders.
There is "hardly any evidence of real Hyksos warriors" but we do know they were culturally related to the Amorites and Canaanites (Stillman and Tallis, 1984). The primary figures used for these stands are Amorite and Canaanite figures by Old Glory, along with New Kingdom Egyptian figures with added beards and Canaanite headgear. The clothing patterns (elaborate vertical stripes) are based on the Beni Hasan tomb paintings (1900 BC) that depict western Asiatics and at least one Hyksos.
There are figures on each stand that reflect the themes of both military conquest and migration. There are young people and females. Some are carrying bags, toting baskets, leading a goat, or carrying a dead Ibis bird.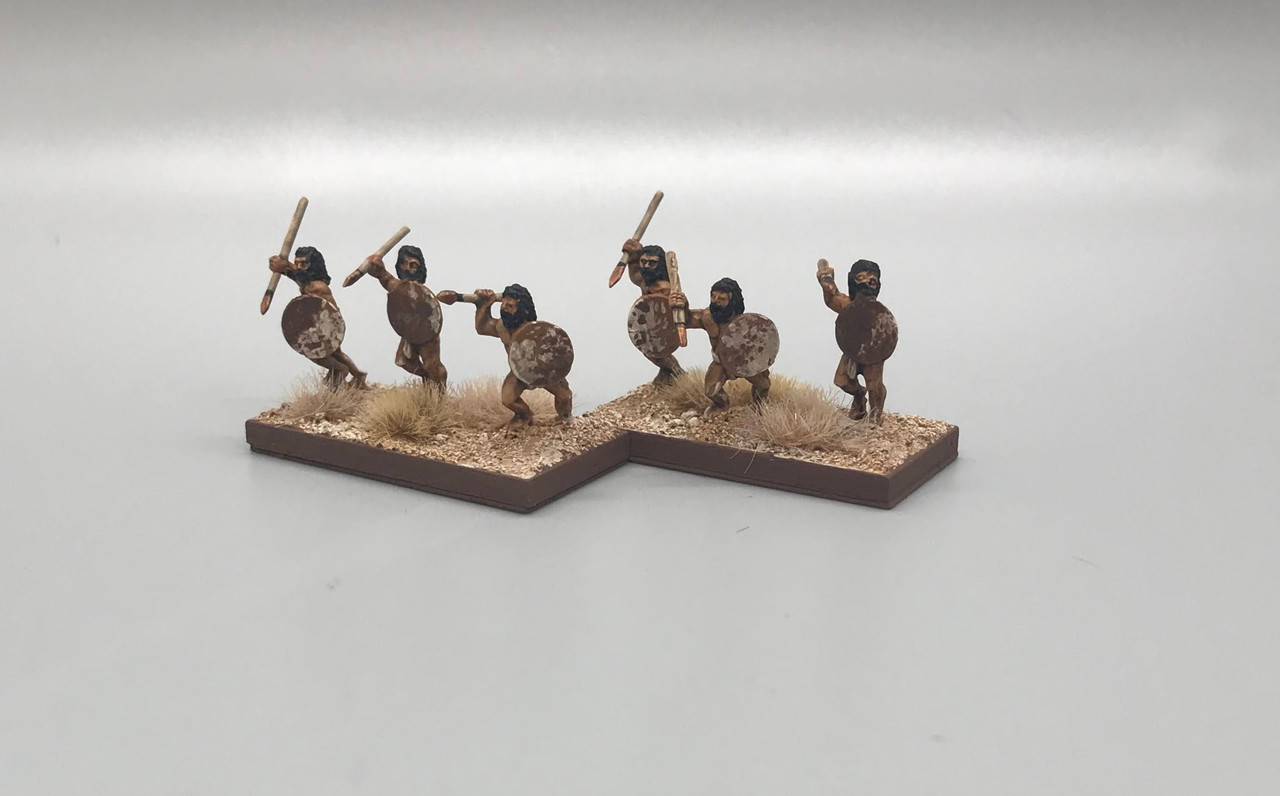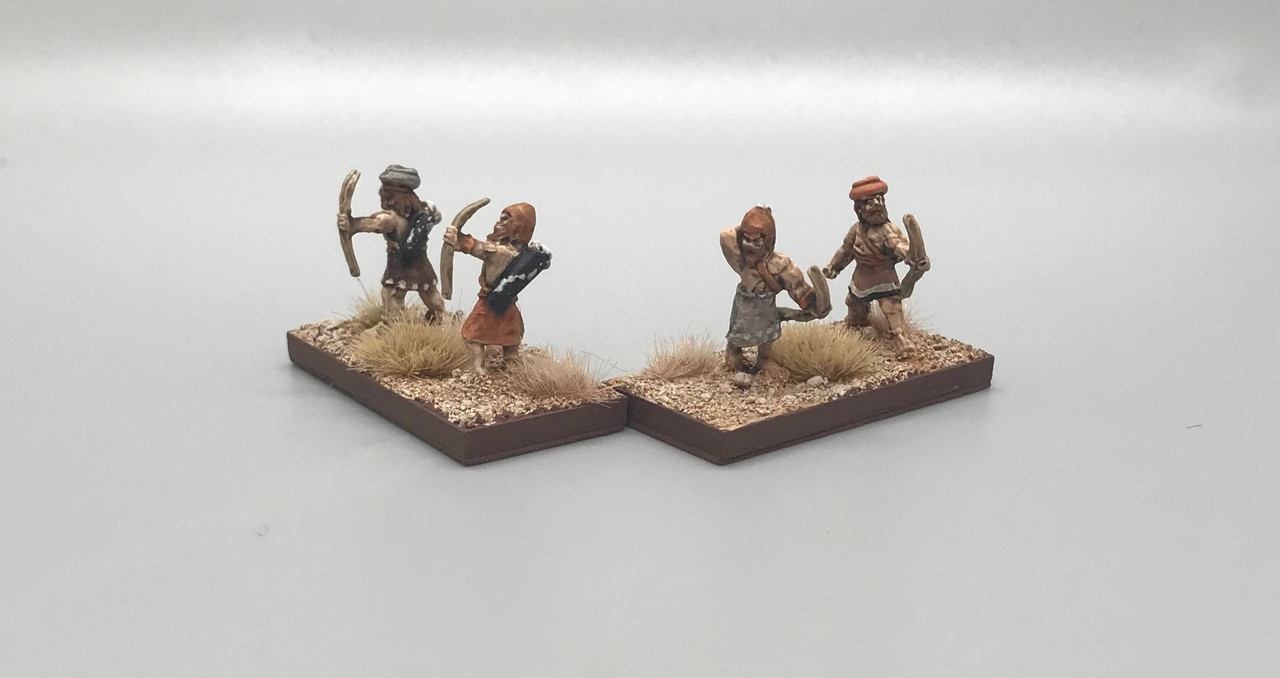 Light Foot and Skirmishers.
The Hyksos employed foreign troops, so these stands represent Amorite archers from Mesoptamia who look somewhat out of place in the sand along with some desert tribesmen from the Sinai armed with javelins and shields. All figures by Old Glory.
References:
Buttery, Alan. Armies and Enemies of Ancient Egypt and Assyria (1974) WRG
Stillman, Nigel and Tallis, Nigel. Armies of the Ancient Near East 3,000 BC to 539 BC. (1984) WRG