The Hittites were rulers of most of Anatolia (in what is now Turkey) and one of the great powers of the ancient world for about 500 years, starting in about 1700 B.C. Their wars of conquest took them as far as Babylon and Syria all the way to the Egyptian frontier. Their army was characterized by a core of warriors on chariots along with units of spear-armed infantry in a standing army, augmented by reservists and troops from vassal states.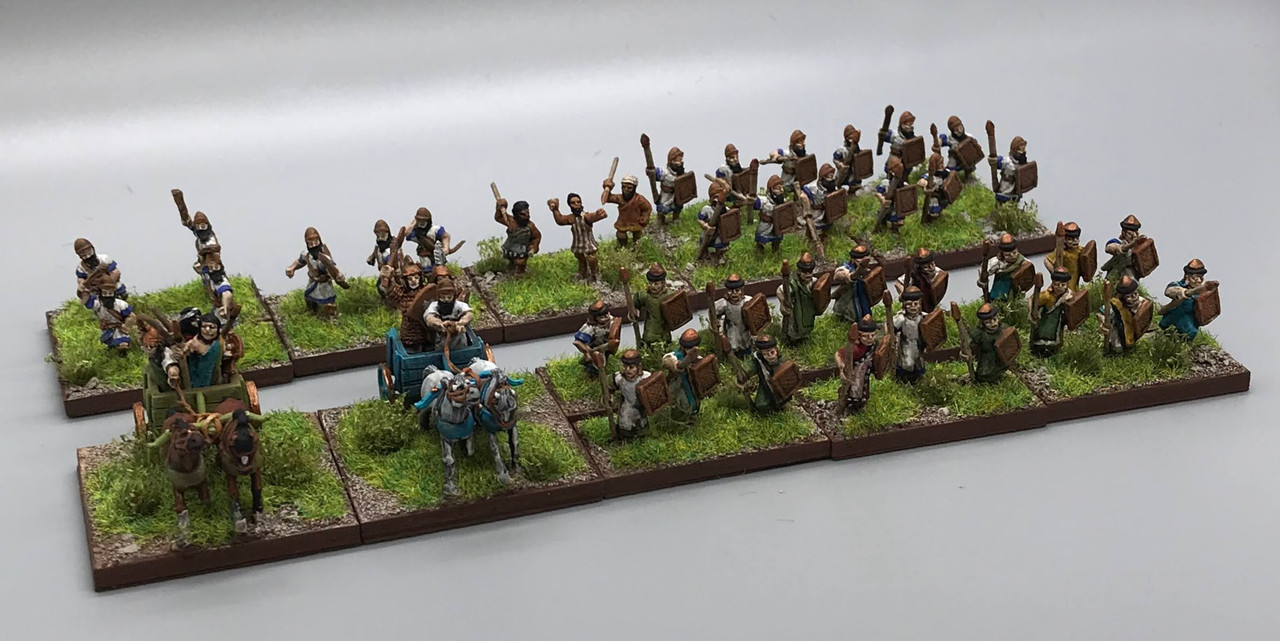 This 15mm army is organized for the "Hittite Old and Middle Kingdom" list as two Chariots, six Light Spear, four Light Foot, two Skirmishers, one Bow Levy, and one Rabble, for a total of 16 stands and 48 points.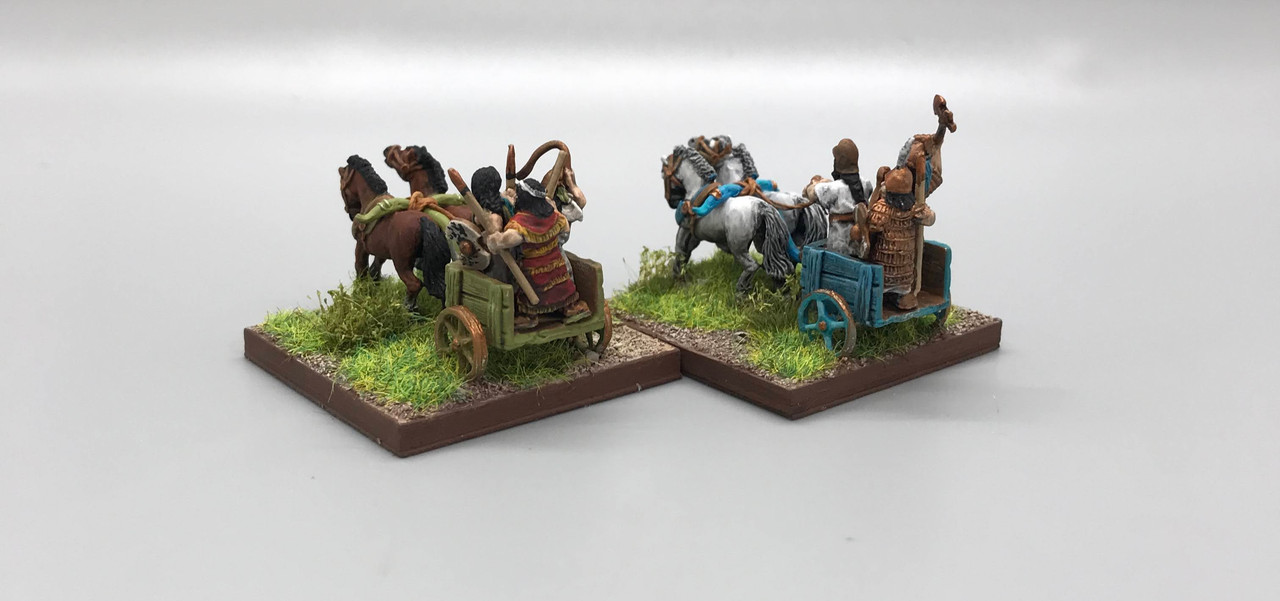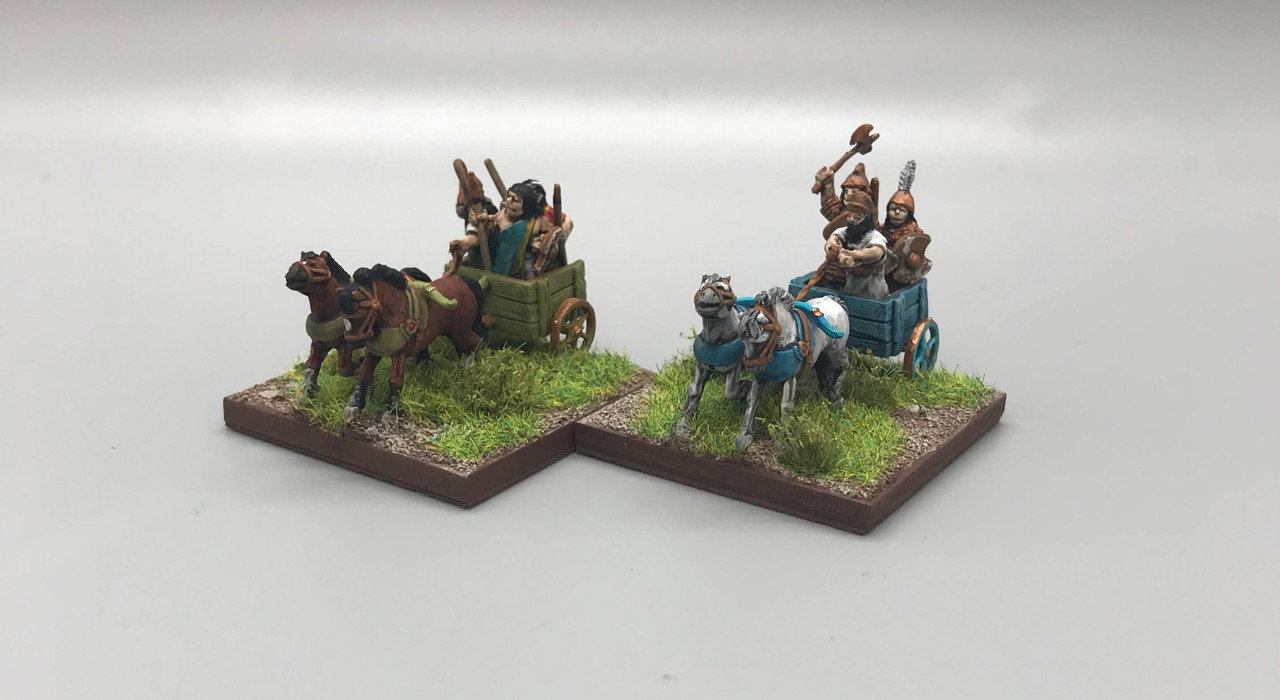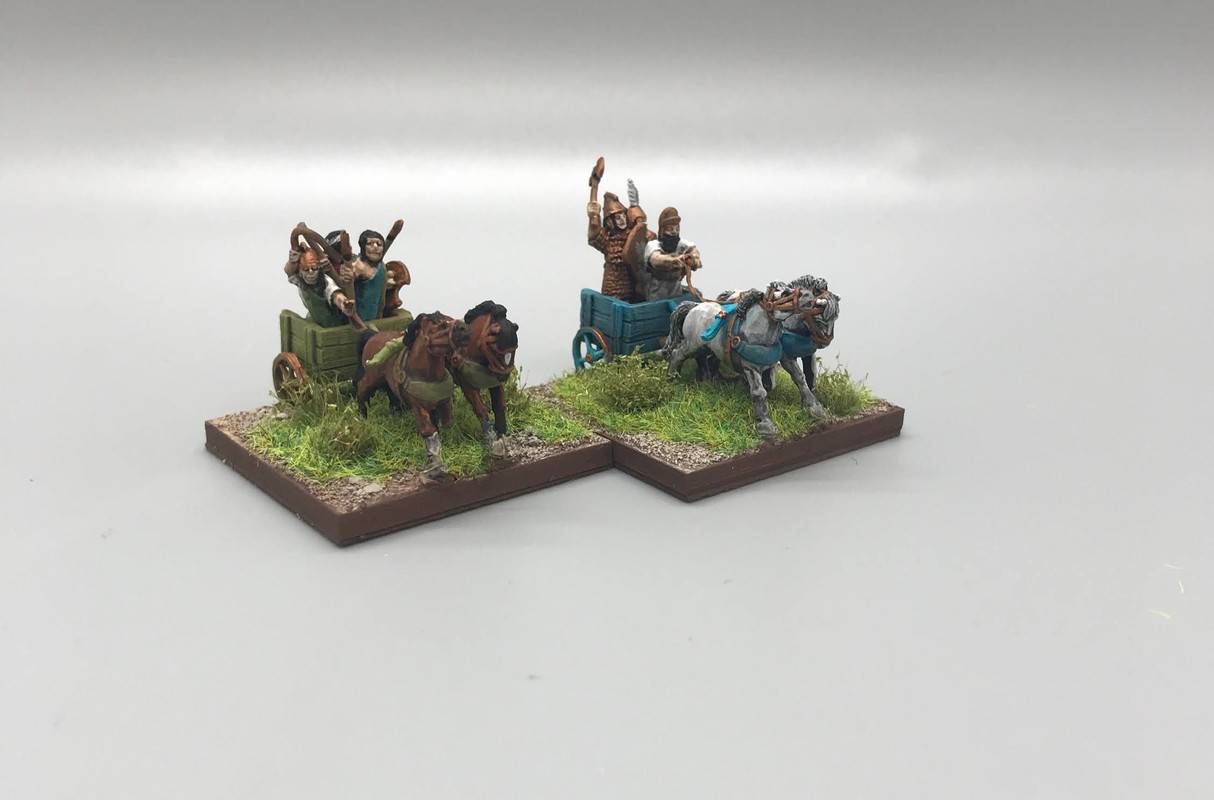 Chariots.
Hittite chariots are shown in art as a variety of styles, including the box-shape used in this army. It appears that the earlier versions of these chariots had two-man crews, but I opted for the three-man crews that would be appropriate for the battle of Kadesh in 1274 B.C. The horses in the Kadesh reliefs are usually shown as unarmored like the ones used here. The crewmen are wearing a variety of clothing and armor which match the illustrations found in "Armies of the Ancient Near East" published by WRG. The chariots and crew are by Gladiator, except for the general and his driver who are Old Glory figures.

Light Spear.
These stands represent the standing army of Hittite troops. The figures are by Old Glory. The figures were converted to have proper Hittite leather helmets like those seen in "Hittite Warrior" by Osprey. About half were also converted to have the distinctive Hittite cape hanging from one shoulder.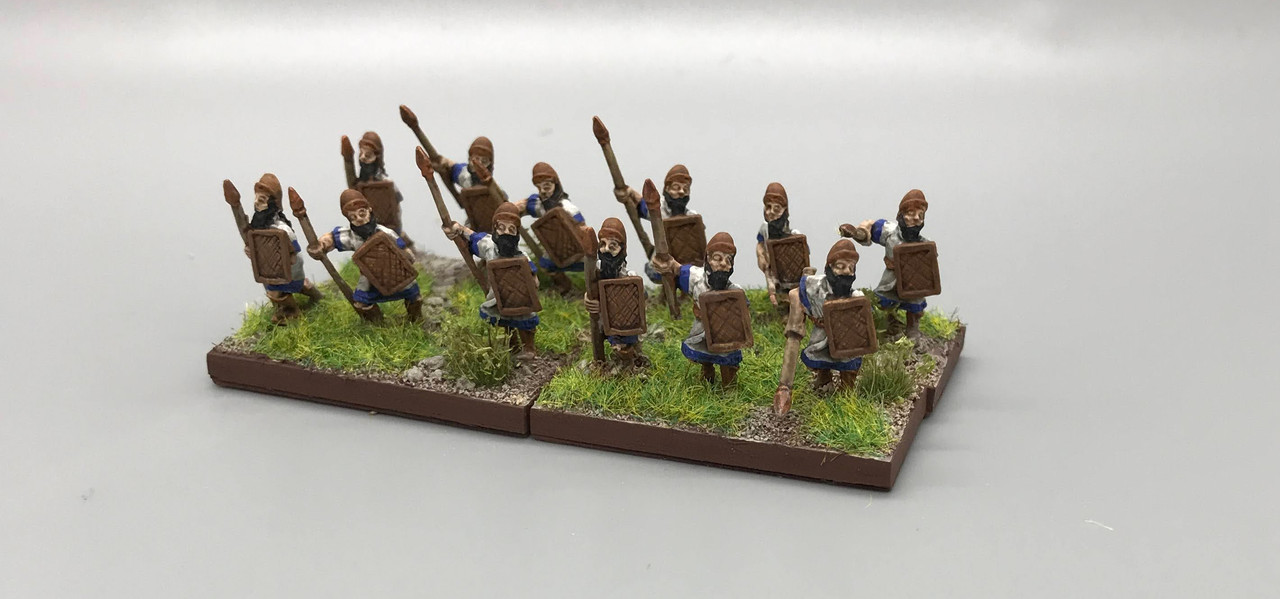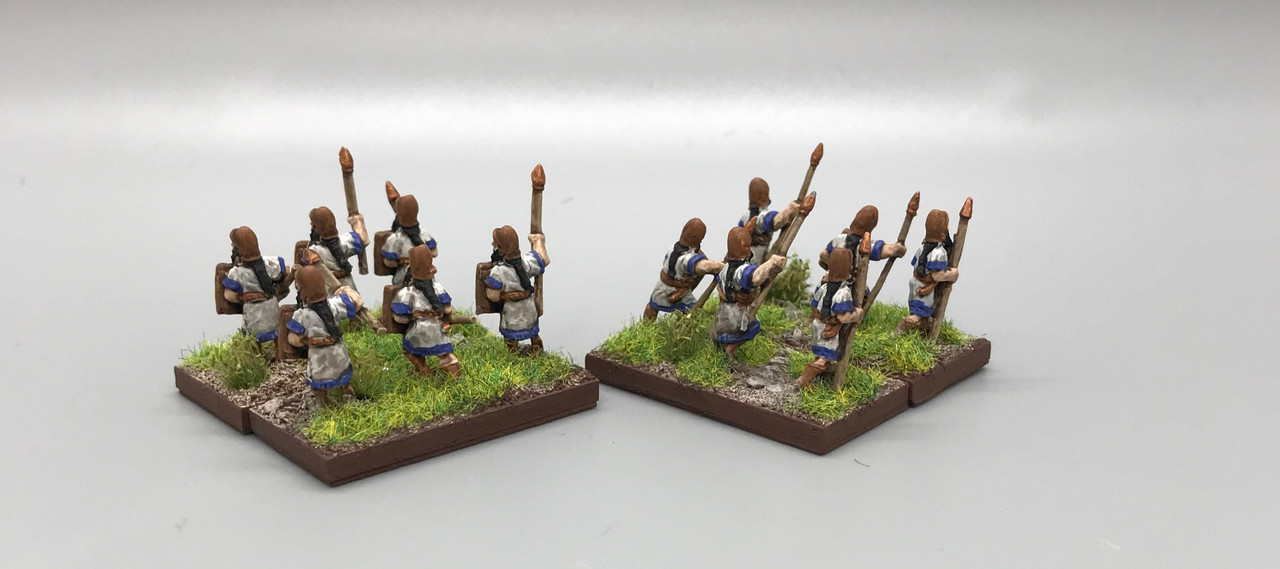 Light Foot.
The Hittites made great use of vassal troops, allies, or captured and transported enemies. These troops are using issued Hittite clothing and equipment and have long plaited hair hanging down the back, but have beards which set them apart as non-Hittite.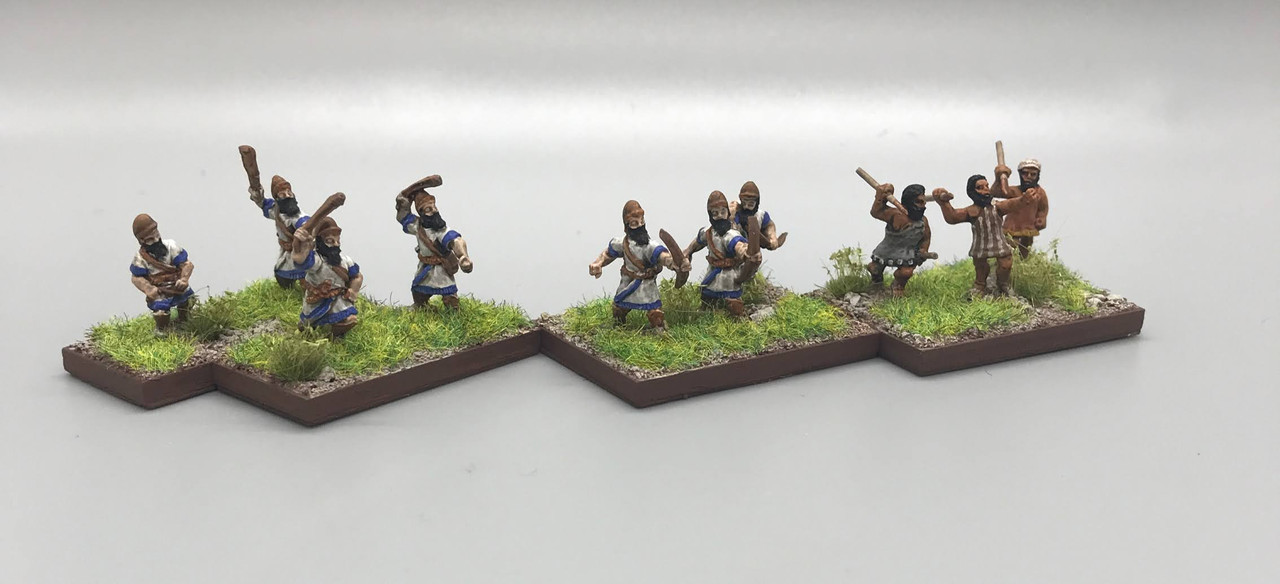 Skirmishers, Bow Levy, and Rabble.
These troops have issued clothing and equipment similar to the Light Foot. The stand of rabble represents a group of Canaanites who have been pressed into service or perhaps serving as mercenaries.
References:
Stillman, N. and Tallis, N. (1984). Armies of the Ancient Near East, 3000 BC- 539 BC. WRG.
Bryce, Trevor. (2007) Hittite Warrior. Osprey.