This Syrian army represents the forces available to the various city-states of Greater Syria, an important cultural and economic crossroads with valuable exports of cedar, pine, and cypress from the Ammanus and Lebanon mountains. (Colello, 1987) The northern part of ancient Syria was more culturally Sumerian, with their warriors in the early times equipped in either native garb - a simple kilt - or in Sumerian gear. (Hamblin, 2006). However , I chose to use figures for this army reflecting their appearance during the Egyptian New Kingdom with more of a Canaanite influence. They are organized here for the Early Syrian army list; One Chariot, six Pike, nine Bow Levy, and four Rabble.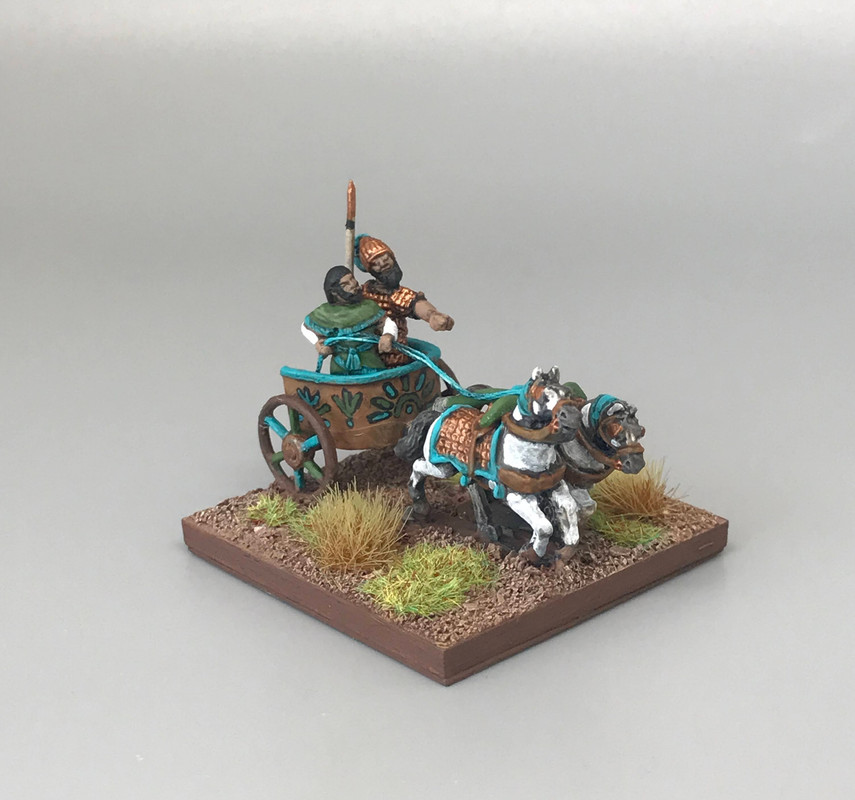 Chariot.
This chariot is a mix of figure brands - an Essex chariot and driver combined with an Old Glory officer and horses. The chariot body looks similar to a Hittite chariot while the horse trappings look Egyptian, which seems appropriate for a cultural and economic crossroads like Syria. The chariot body is decorated with a pattern based on a gold clothing ornament found at Tell Halaf in Syria close to the border with Turkey.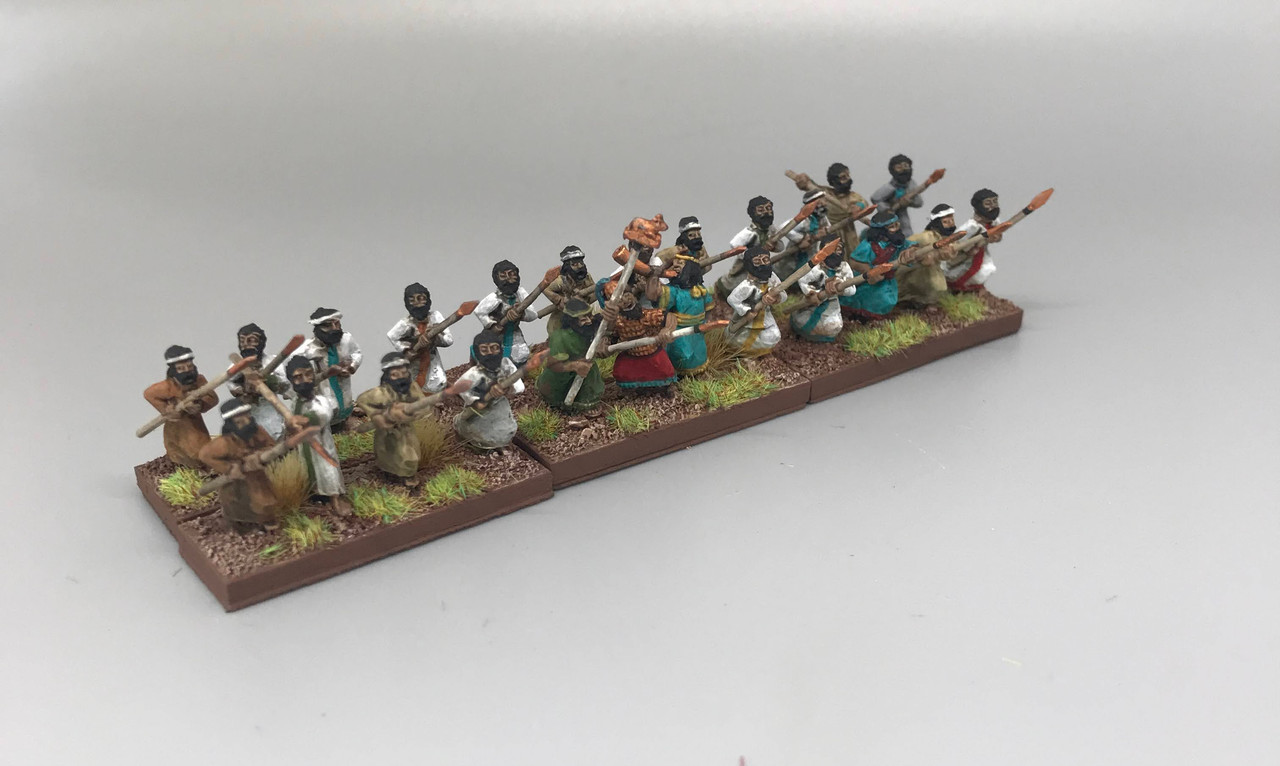 Pike.
The spear-armed troops are wearing simple clothing, in this case mostly white ankle-length robes with long tight sleeves and colored hems. (Stillman and Tallis, 1984). The shoulder-length black hair with headbands and short pointed beards are taken from a tomb painting from the reign of Thutmose III (circa 1450 B.C.) shows Syrian tribute bearers wearing similar clothing and hairstyles. These figures are almost all Old Glory brand "Arab Peasants", with their weapons replaced with spears made of brass rod, hats cut off and changed to headbands, and any two-piece garments filed down to make a one-piece robe. One of the Pike stands can be the Army General if desired, so one command stand from the Syrian City States command pack is included. The officer figure is wearing scale armor similar to what a chariot warrior might have worn. (ibid)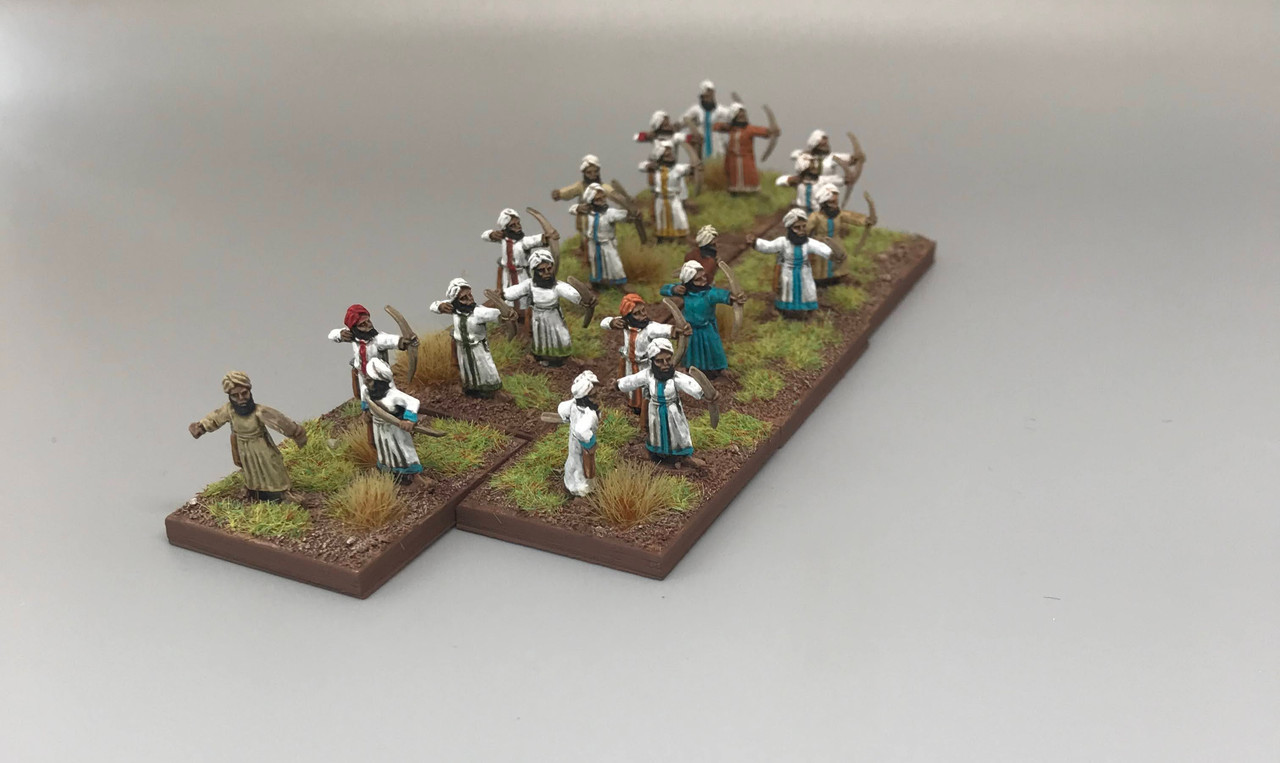 Bow Levy (levy or militia bowmen).
These bowmen are dressed similarly to the pikemen, except in this case wearing turbans typical of Canaanite peasant levy. (Healy, 1992) The figures used are Old Glory brand Arab archers, slightly modified by having their swords and scabbards removed.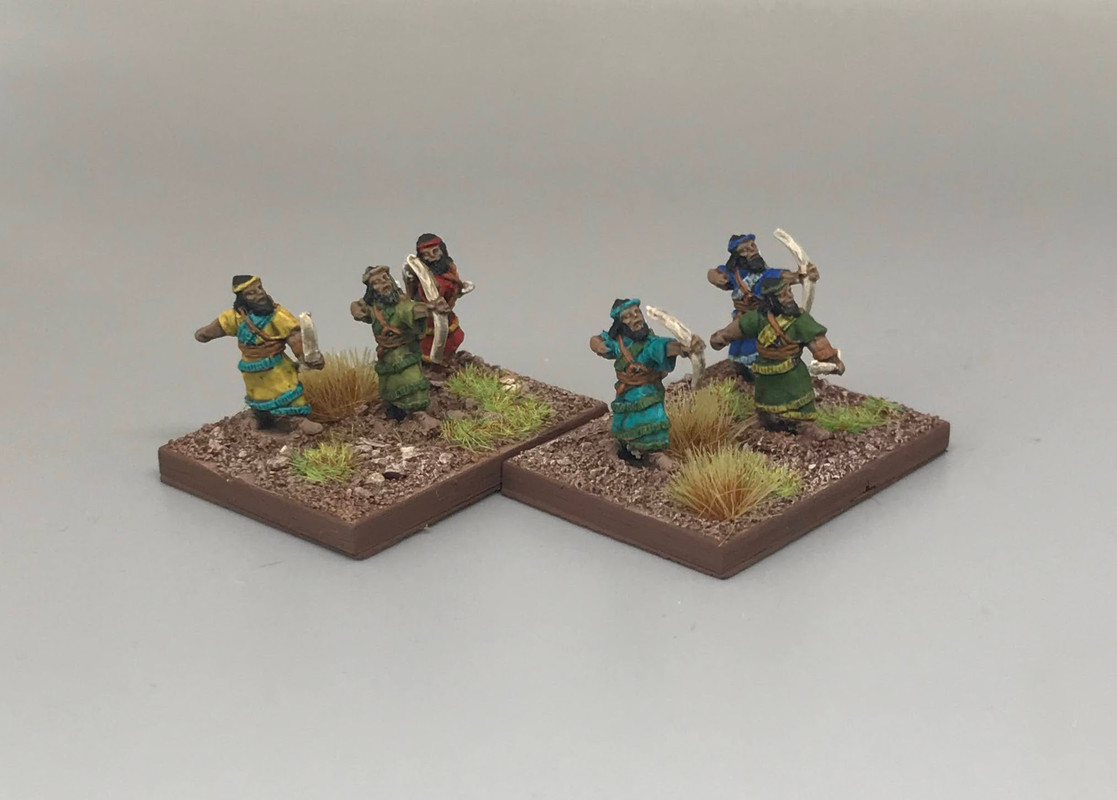 Bow Levy (household bowmen).
These troops are wearing "brightly colored and embroidered robes" typical of chariot troops of the 15th to 13th century B.C. (Stillman and Tallis, 1984). The color choices were taken from a 19th-century illustration of Babylonian and Assyrian clothing but are consistent with the colors (white, blue, green, red, and purple) known to have been used by the Syrian chariot troops. (ibid) The figures used are unmodified Old Glory brand Kharu Archers.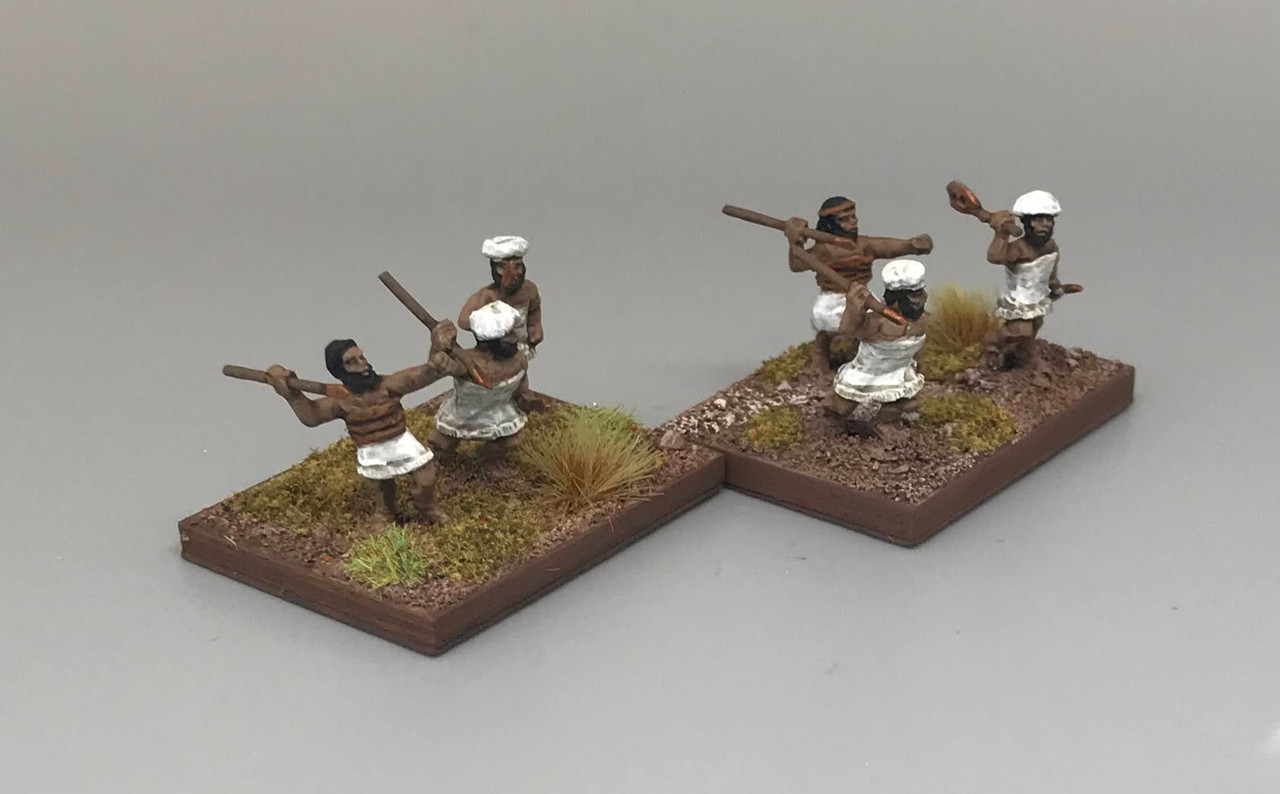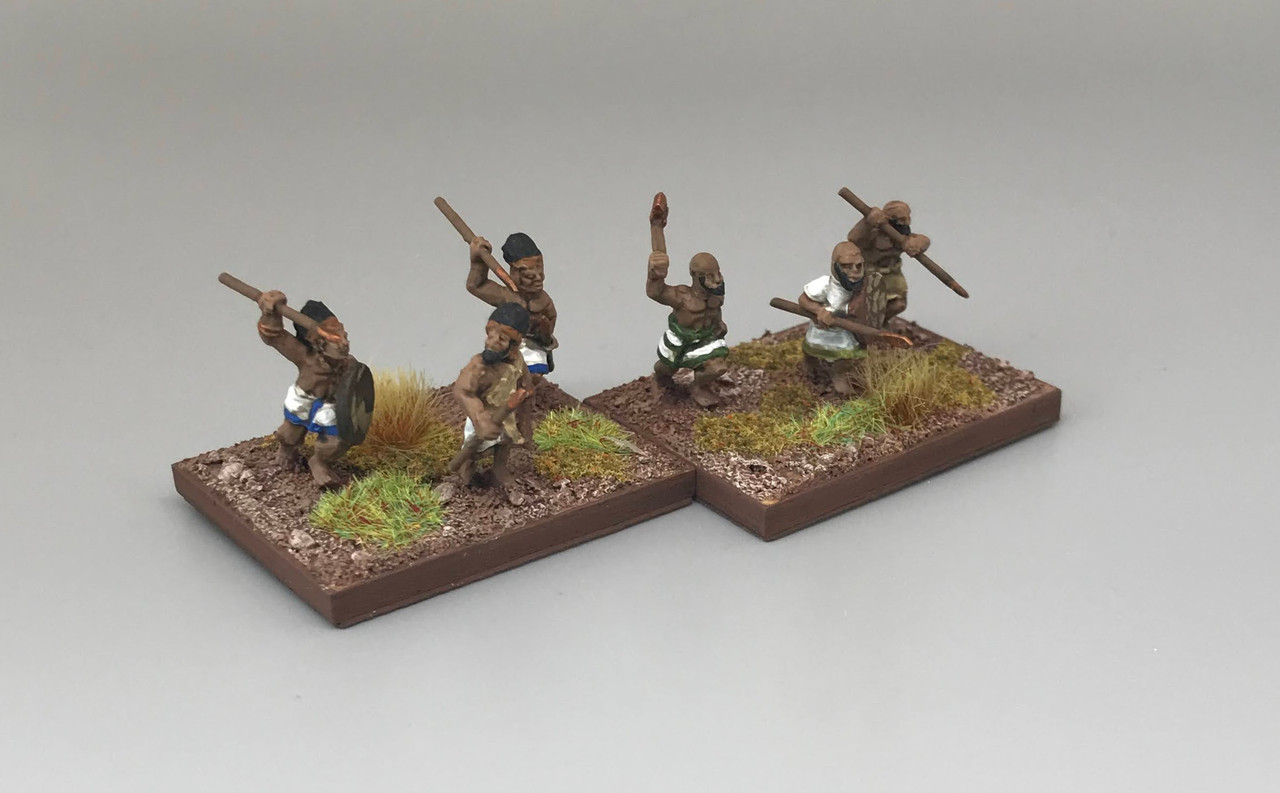 Rabble.
The four stands of Rabble are wearing a wide range of clothing to represent their status as "hupshu" peasant soldiers. One stand represents troops of the Shasu tribe with their distinctive swept-back stovepipe hairstyle. The others are Canaanite and Syrian troops wearing simple kilts, tunics that run from the armpits to above the knees, or a kilt combined with leather bands of armor across the chest. (Stillman and Tallis, 1984) The troops are all modified figures from Old Glory and include poses from their Nubian, Canaanite, Arab, and Japanese ranges.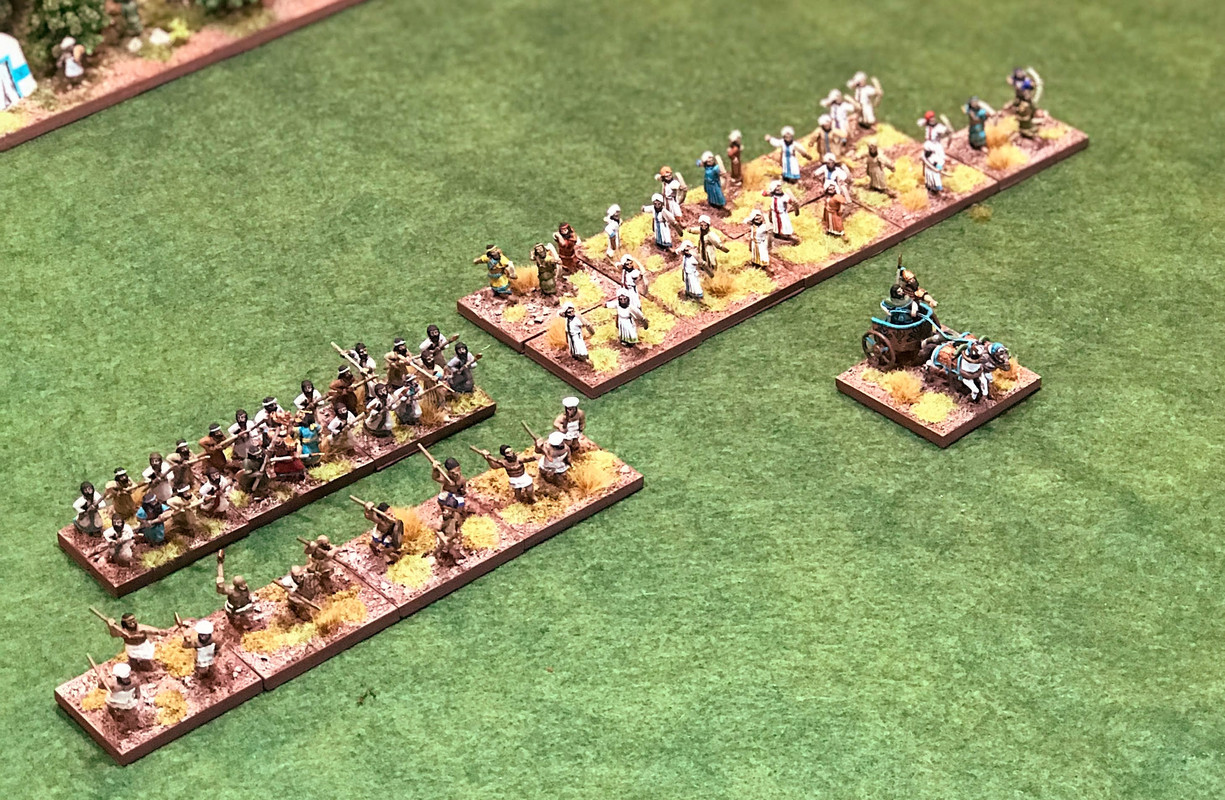 The Army Arrayed.
References:
Warfare in the Ancient Near East to 1600 B.C.
, William Hamblin, 2006
Armies of the Ancient Near East, 3,000 B.B. to 539 B.C.
, Stillman and Tallis (WRG) 1984
New Kingdom Egypt
, Mark Healy (Osprey), 1992
Syria: A Country Study
, Thomas Colello ed., 1987