My Early Sumerian army is finally on the painting table. The army has 11 stands of bow levy, two rabble, six skirmishers (slingers), and one stand of raiders representing the general and his best troops. So twenty stands worth 48 points. All the figures are by Eureka.
The Eureka rabble figures come in two poses, so I did some conversions to make each one unique. Two of the figures are from Eureka's Mound Builder range with added sheepskin kilts and long hair.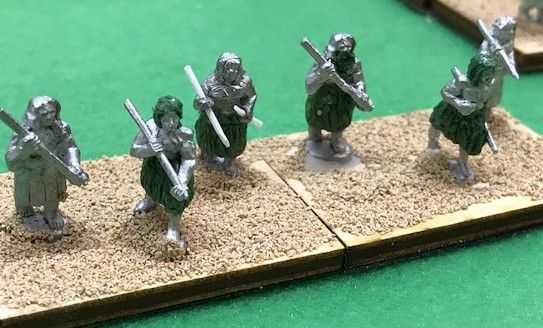 I put together some extra scenic items for the table. These include a reed house, a farmer plowing a field, some beer drinkers and friends, a big man, a ram caught in a thicket, a soldier on a straddle car, and an artisan presenting the Standard of Ur to a noble lady. The standard is actually about 200 years after the time period for this army, but I include it here because I plan to expand this army so that it can be used for a Gilgamesh-era Sumerian force.
The camp is going to be a section of city wall with additional buttresses added to give it the right Sumerian look.
I will post more pictures with additional details as more stands get completed.